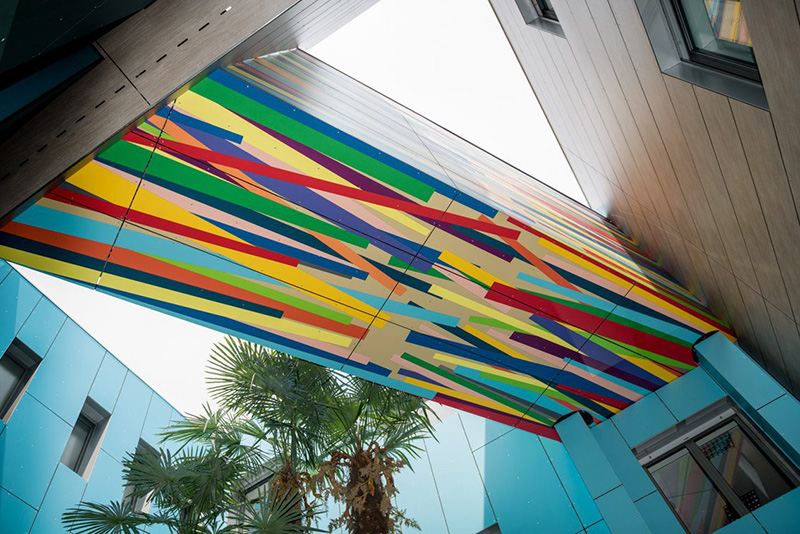 06 Sep

Exterior Compact Laminate

EXTERIOR COMPACT LAMINATE

Infinite possibilities with exterior compact laminate

One of the best materials for exterior purposes is the compact laminate. Not only because its properties to resist the climatological factors, but also due to the high degree of customization that allows its decorative surface.

Exterior Compact Laminate is constructed with layers of Kraft paper and decorative faces, impregnated with thermosetting resins and UV protective film in the top layer. This solid core panel creates an extra tough durable laminate. It is strong, self-supporting, water resistant and highly durable, requiring very low maintenance, perfect for a multitude of exterior uses in commercial and public spaces. Such a resistant material can be place anywhere and won't suffer any damage due to the rain, sunlight or humidity.

Although its most common use is indoors, there is a wide variety of possibilities to apply compact laminate outdoors. Exterior Compact Laminate can be used in exterior building cladding applications, ventilated rainscreen façade applications, in playground equipment, malls, outdoor tables and furniture and service stations, among others. More and more designers are noticing all the benefits that exterior compact laminate have in outdoors applications.

Its design can be very varied: from plain colors, patterns, wood or stone imitation to even fully personalized images or drawings. Let your project be unique and out of the ordinary. Check FINIXIA's Exterior Compact Laminate catalog and find the best material that suits your project. Over twenty years of experience in this product, our technicians will help you find the best quality and material that will take your project to another level.

Also, if you are looking for other exterior materials, in INDAREX website you will find the best ceramic solutions for the outdoor flooring, swimming pools, building cladding etc..