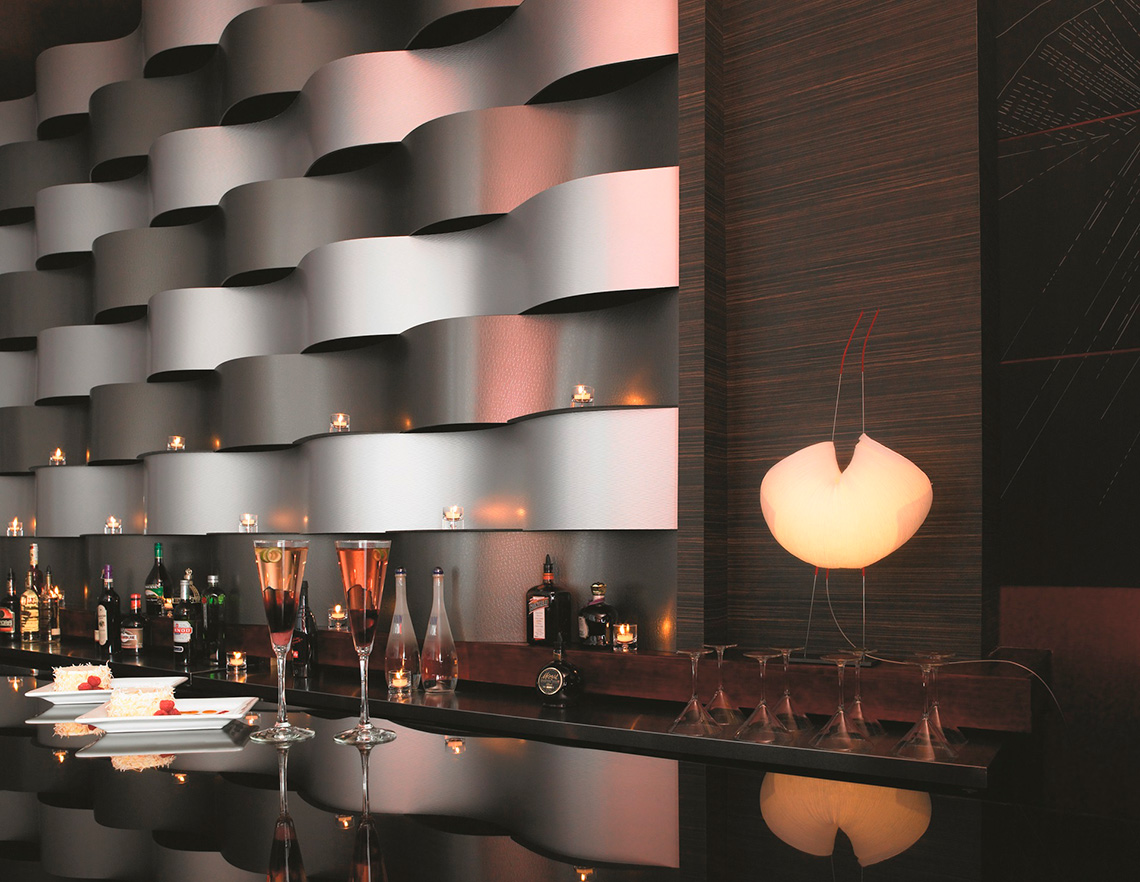 30 Mar

Laminate: Ideal for the multiple decorative applications

CONTINUOUS PRESSURE LAMINATE  

Best features of Continuous Pressure Laminate

Continuous Pressure Laminate is a surface product that is laminated in continuous form low pressure.

It is really similar to High Pressure Laminate but instead of being manufactured with high pressure, Continuous Pressure Laminate is laminated under low pressure. This results in variations in performance particularly in terms of strength and ease of installation. However the laminate structure and the resins used are relatively the same for the two types of laminate. This means that if the specifications, such as thickness, decor and finish, are identical, then both will also produce identical test results.

Continuous Pressure Laminate (CPL), in contrast to other surfacing materials, offers the versatility in available lengths as well as the biggest advantage of easy application for curved surfaces. It is cut to the required width on-line immediately after pressing, as well as being finished on the reverse side and formatted to length or coiled onto a roll. The melamine resin film formed in the production process protects the laminate and gives the surface above average resilience and durability. It is an ideal product for use where thin and postformed surfaces are required.

Continuous Pressure Laminate is perfect for numerous applications in vertical and horizontal areas such as kitchens, office furniture, doors, furniture manufacture, benches, interior partition walls and cladding, or commercial and decorative spaces.

Its best features are that continuous pressure laminate is moisture resistant and extremely easy to clean thanks to its non-porous surface. Because of its composition it has excellent machinability, giving tools a longer life, and producing less chipping. It also has infinite designs like woodgrain, stone designs, endless plain colors and fantasy designs among others. Thanks to that, finding the perfect color or design for each project is guaranteed. Take a look at our wide range of designs and ask our expert team in order to have the best orientation in such a versatile and unique product.

INTERIOR COMPACT    

The versatility of Interior Compact Laminate

Interior Compact Laminate is constructed with layers of Kraft paper and decorative faces, impregnated with thermosetting resins. These layers are then sandwiched between laminated top and bottom sheets, compressed and baked. A process called polymerization melds them all together creating a solid core panel that is an extra tough durable laminate.

Thanks to its dense composition, this material has infinite advantages. The first one, and maybe the most important is its strength. Its excellent impact resistance makes it ideal for heavy duty applications like shower cubicles, wall paneling, laboratory benches, tables, office furniture, lockers.

In addition to that, this material is self-supporting, water resistant and highly durable, requiring very low maintenance, perfect for a multitude of uses in commercial and public spaces.  It is particularly easy to clean and a very durable material. … Because its composition, it does not need any edge banding. Also, it can be used vertically or horizontally.

Other very important characteristic is that Interior Compact Laminate panels are its antibacterial properties. Due to its intrinsic surface, it can be used in food preparation areas, education and healthcare buildings. Ideal for environments where hygiene is key.

Not only that Interior Compact Laminate has incredible internal characteristics, it also has a wide range of designs to choose from: plain colors, wood designs, stone designs among others. Every design is possible to create, ask our expert team and we will personalized the panels to fit perfectly into your design of your project.

EXTERIOR COMPACT

Exterior compact laminate: a resistant material

The exterior compact laminate, as we said at the interior compact laminate description, is one of the most resistant materials. Because of that, it is a very interesting material to use for outdoors purposes like exterior building cladding, ventilated rainscreen façades, playground equipment, malls, outdoor tables and furniture or service stations. Compact laminates will resist the effects of vandalism and, properly fabricated, will provide very durable surfaces suitable for public areas.

For example, the panels are perfect for use in innovative and functional ventilated façade systems. Used on its own or as a highlight in combination with other materials, determines the look and underlines the qualities of a building.

In order to be a durable material at the outdoors spaces, this panel is not exactly like the interior compact laminate. Exterior compact laminate panels has a protection film that turns it into a weather  & sunlight-resistantmaterial. Exterior laminate is not affected by quick temperature changes, they will not lose their excellent properties even at low temperatures. It is UV, water, moisture, heat and even available in fire resistant. Its non-pourous surface practically withstands dirt accumulation, keeping the material smooth and easy to clean even in cases of graffiti for example. Designed to withstand the elements, exterior compact laminate is the perfect material for outdoor spaces were resistance is needed.

In addition to all of that, it is available in many standard colors, finishes, sizes and thicknesses and even custom-made project colors. In our wide range of design every style is contemplated: sleek and elegant designs, bold patterns, infinite plain colors, wood and metallic designs.

In conclusion, exterior compact laminate is a very sturdy and unique material to consider foroutdoor projects.