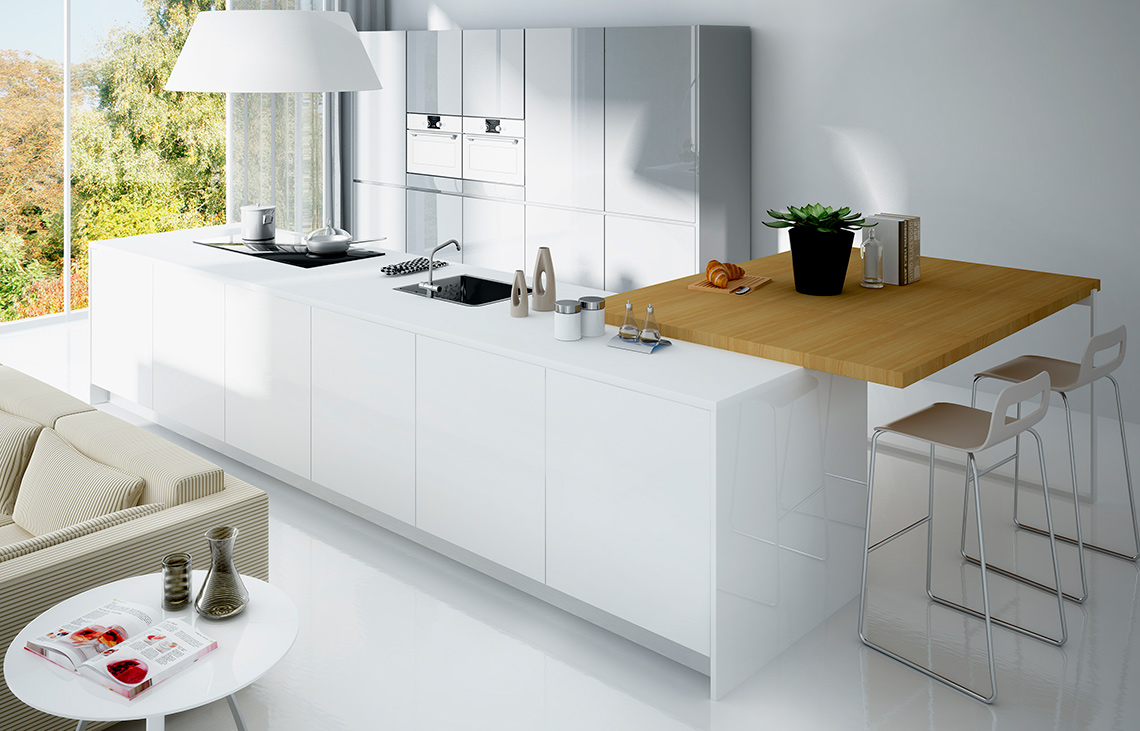 23 Dic

Modern Kitchen Design

The key of modern kitchen design

Modern kitchen design is all about creating clean, open, functional, and calming spaces, with plenty of room for character and personal style. Whether you want to something bright and whimsical or monochromatic and sophisticated, our modern kitchens will inspire you to think outside the farmhouse box.

Cool and contemporary or warm and homely, the FINIXIA range of modern kitchen designs are available to suit every taste and kitchen size. Cabinets are available in a matt or gloss finish, with colors across the spectrum available – including monochrome black and white.

Whether you're partial to an all-white design or live for a pop of color, there's nothing like a sleek and modern kitchen. Take contemporary cues from nature or go for total modern luxury; keep your palette classically monochrome, or opt for bold color throughout. No matter which path you choose, a modern design scheme will always be the best option.

With their minimalist cabinetry, neutral color palettes, and metallic accents, the modern kitchens have a subtle elegance that will never go out of style. They blend aspects of modern design with other styles, including traditional and industrial, for a look that's current and sleek, but not sterile.

The handleless kitchens are ideal for a modern kitchen design, streamlining the room to create a sleek and stylish finish. Appliances include integrated ovens and induction cooker hobs that can help complement your design.

Modern kitchens should be catered to suit your every need, which is why the personalization available in FINIXIA offer is an ideal choice. Every purpose and preference has been considered, so take a look at the collection and find your perfect modern kitchen design.

See all the options of the catalog of modern kitchen design ideas that blend style and function for a space that is cutting-edge yet inviting.

RESIDENTIAL KITCHEN DESIGN

What to know about residential kitchen design

Designing a kitchen is always an exciting challenge but what better motivation exist than designing a space as personal and familiar as a residential kitchen.
An effective residential kitchen design provides right balance of access for members of all heights and special needs people. Is important to install all the appliances (stove, sink, refrigerator etc) on the correct spot of the kitchen in order to create a practical and logical routine of movements inside that space.
Another important point regarding the residential kitchen design is the amount of storage. For a practical and well-organized kitchen is mandatory to have a good storage system that placed everything on the correct spot. Base cabinets, wall cabinets or full length cabinets all combinations are possible to make the most of every corner of the available space.

According with universal design codes, an easy cleaning kitchen is absolutely necessary. Because of that, the fewer joints the materials used in the kitchen have, the better. Flat surfaces without irregularities, help with the task of keeping the kitchen clean.

With the range of FINIXIA residential kitchens you can achieve a practical, comfortable, tidy and functional space without neglecting a great design with modern colors, textures, and shapes. All styles fit in the residential kitchen design; industrial, classic, rural, modern etc.
Play with the best color combination, choose between our endless catalog of handles, combine the cabinets with one of our resistant countertops. Different materials can be used in countertops depending of your needs.

But not only attention should be paid to the cabinets in the residential kitchens design, the flooring we use and the finish we give to the walls will also have a great impact on the final look of the kitchen.
Combining each element as small as it seems is vital to achieve a personal and different space.

KITCHEN DOORS Y KITCHEN CABINETS

Kitchen doors y kitchen cabinets: the focal point of a house

Kitchen cabinets are the main element in a kitchen that will define the look of it. The kitchen is often known as the heart of the home so your choice of the cabinet will define the style of your kitchen, the amount of storage space, convenience and longevity. These cabinets serve dual benefit of adding beauty to the home and also added functionality.

They can give a more classic look with a partial overlay design on the kitchen doors or a rural one using wood designs.
New technologies have create infinite designs of kitchen cabinets with a wide range of colors, textures, and shapes.

The quality of the cabinet is determined by the type of the material used. Also, the way the cabinets have been put together is an important consideration. Longevity, function and durability are directly linked to the type of material used to make the cabinet.
The kitchen cabinets offer support to the appliances that are positioned inside. Using durable and strong material will ensure that the weight of the canned food, dishes, and other culinary items are held properly and with ease.

But not only the cabinets have importance in a kitchen design. What will define the style of the kitchen are in fact the kitchen doors. A good cabinet that matches with the doors will make the difference or choose opposite colors to really make them contrast. Many options at your fingertips to combine

In FINIXIA catalog you will find every design possible, since plain colors to bold finishes, with a wide range of possibilities of installation and hardware as handles or countertops. Choose the quality of a good material with the best design and a technical team with extensive experience that will guide to find the best composition for your spaces.